With all the mortgage software systems, software, and tech available in 2022, you'd think the closing process would be easy, right?
Wrong.
Because the lack of integration (think: connectivity) in the mortgage software industry often ends up creating more problems than solutions. Think about it… if you're like most mortgage professionals, you're already using a proverbial patchwork of solutions.
But the problem arises when you need those individual solutions to come together and solve the same problem – closing. And if all those solutions aren't talking to each other, working in sync, and integrated, the hard work you and your team did to get everything set up is wasted.
The mortgage software industry is broken
Even in 2022, the problem still exists: siloed, stand-alone, singular software platforms.
Although there are a lot of players in the loan management space, most of them don't play well with others. They're not meant to. And that's why closing, doc signing, and trailing doc issues still create headaches for everyone involved.
Want proof? Check this out – G2 has nearly 500 options for "loan software."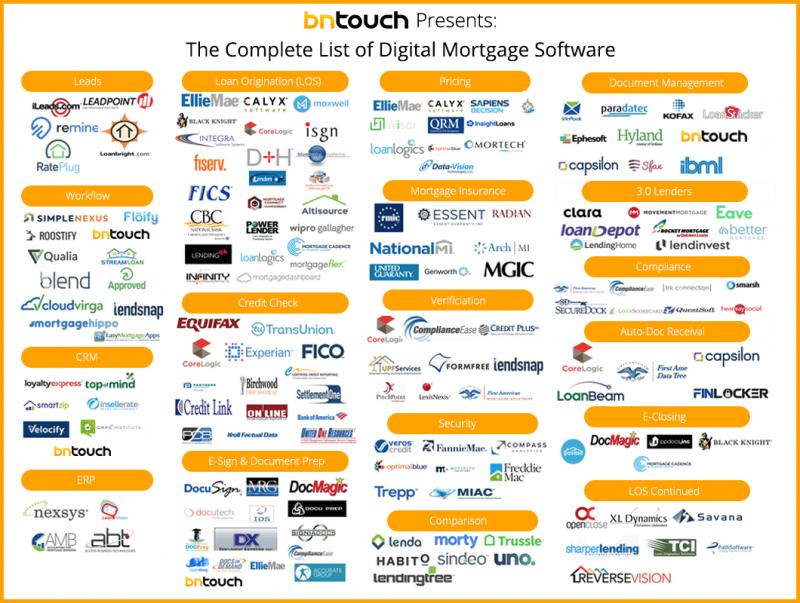 Now, this makes sense as the actual process itself has multiple stakeholders. And a single mortgage loan alone triggers a series of events involving several parties, providers, and you guessed it… technologies.
Over the last few years, hundreds of new softwares, platforms, and technologies have flooded the industry. But all it's done is muddy the waters by creating an even more crowded market of siloed solutions that all work independently.
And that's the problem. Because if you want to close the loan faster, these technologies need to work together.
Of course, you can always use the loan processing tools you prefer… but at what cost?
If you're in the industry long enough, you'll have your preferred tools and even the thought of switching or changing software makes you wince.
And that's understandable (we're all like that).
But this can create friction when you're working on a new loan. Because while you're familiar with the software or platform you like, maybe others aren't. They like to use something else. And the problems compound and get worse with each new person added to the deal.
You get it. Because you're LIVING it…
How many logins do you need anyhow?
How much unnecessary back and forth happens? What about miscommunication? How much of your work has to be duplicated across multiple systems? How many times do you have to remind someone where the doc you uploaded is?
It can be downright maddening, right?
But… it doesn't have to be.
Here's how lenders, borrowers, and everyone in between can get a better closing experience
Can you imagine…
A central point that connects all the software solutions, integrates them into one dashboard, and makes the loan closing process easy?
✔️ A streamlined experience that's as hands-off as possible…
✔️ Instant access to the most up-to-date info & all the docs, all in one place (for everyone)…
✔️ Faster loan processing, stress-free closing, and smiles all the way around?
It's possible.
And it's happening for thousands of mortgage professionals right now.
We provide a completely managed, error-free, fully-integrated loan processing experience with a high level of security and no extra costs.
So you can say goodbye to multiple logins, unnecessary back and forth, and stress-inducing phone calls where you have to tell yet another person where they can find the proof of property tax payments or home insurance policy.
You can get a free demo here (with no strings attached).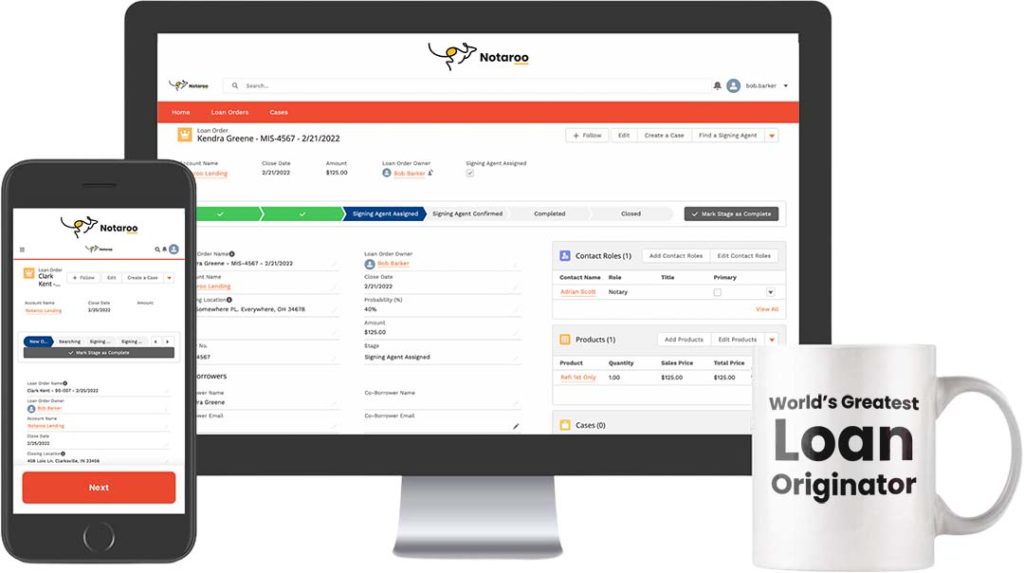 Because loan processing platforms shouldn't create more problems than they solve. And in 2022, it's more important than ever to have a streamlined, transparent closing process from beginning to end.
That's why we built Notaroo – to bring calm to the chaos of closings, for every person involved, at each step of the process.
Click here to get a demo (we'll even throw in 10 FREE signings when you do).
To faster closings,
The Notaroo Team